Over the last year I've repeated this principle many times to friends:
The best way to overcome fear or hesitation is results.
This week we launched a brand new web app that goes hand in hand with everything that I've been building this last year with Craftsman Creative.
Craftsman Creative's goal is to help creatives improve their mindset and their craft so that they can create resilient, profitable creative businesses.
But there was a piece missing. They needed a tool to help them manage and grow their businesses, not just the mindset and skills.
So last year, we started building that tool. We being my brother Michael and I.
Three days ago, it finally launched, and it's ready to support creatives and founders like you. It's called Benchmark, and it helps you get clarity on what's working and what's not in your business so you can grow better and faster.
Now, let's talk about small wins.
Over the last few months we've been planning this launch. We hired someone to help us get featured on 20+ websites, we built a pre-launch page on Product Hunt, and went live on Tuesday morning.
With any new company, product, or launch, you never know what's going to happen. You could have all the confidence in the world, but still end up with 0 signups.
Luckily, that wasn't the case.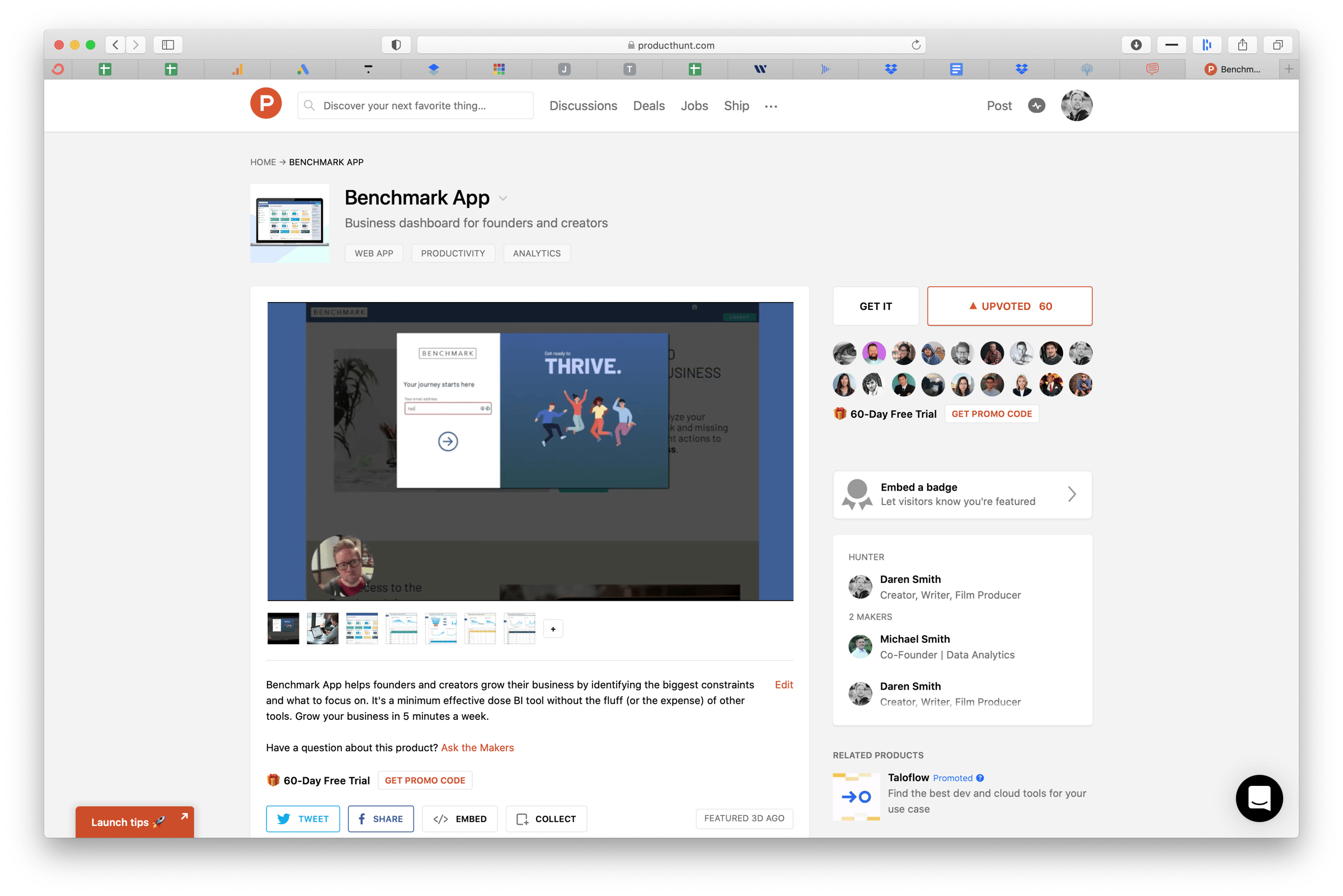 We're now up to 60 upvotes, had hundreds of people look at the launch, and had over 250 visitors to our website, which led to 16 sign ups as of this morning!
Now, is that a success, or no?
Context Matters
If you were to compare our launch to, say, Gumroad raising $5M from over 7,000 investors two weeks ago, then you'd laugh at our launch numbers and scoff at our success.
But, with different context, it can be seen as a massive success.
On Monday, we had ZERO people signed up for the web version of Benchmark.
Four days later we have 16! SIXTEEN people who believed enough in the value we've created and with a strong desire to grow their businesses that they're trusting us enough to try it out!
To me, that's a huge win.
The number isn't zero anymore.
Everyone starts at zero. Some go from zero to $5m in a single day. Others go at a different pace and add a few new people to their platform every day.
Those small wins over time compound and grow, and can turn into something amazing.
So, whatever you're working on, whatever idea you have, don't stress that you're not seeing exponential growth from day one.
Take it one day at a time, grow a few people at a time, and count it as a success. Don't not start because you don't have the ability, the audience, the reach, the money, to grow like some others out there.
Stack small wins consistently over time.
​
Daren
​
PS - a few other things went live this week that you should know about!
​Tyler Rye's Adventure Photography course is the newest course on Craftsman Creative. It's 8+ hours about how to take incredible photos in amazing locations, and how you can grow your business with proven principles.
Also, my favorite online courses from Tiny Little Businesses are available again. Auto Responder Madness helps you use email to grow your brand and provide more value to the people you seek to serve, and Sphere of Influence helps you expand your reach and connect with more people.
​